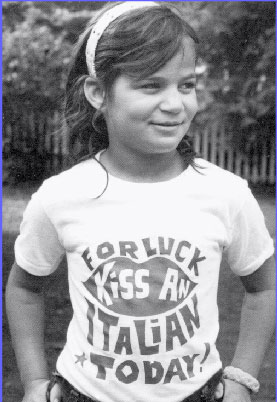 The Teddi Dance for Love is a 24 hour dance marathon that benefits Camp Good Days and Special Times, an organization for children and their families dealing with cancer and other life challenges. Students from St. John Fisher College have been hosting the Teddi Dance since 1982.
The Teddi Project
If there is one thing that cancer can never destroy, it is the dreams and wishes of children. In 1982, Gary Mervis founded the Teddi Project. It's purpose: to help young cancer patients achieve their innermost dream, no matter if it's to be a police officer for a day, to meet a celebrity, visit a relative far away, or even to go to Disneyland. Over the years, the program has changed and today we raise money to send a group of children touched by cancer to experience the magical places of Walt Disney World, Orlando studios, and much more in Orlando, Florida.
Like the camp, the Teddi Project relies completely on volunteers and donations. St. John Fisher College's Dance For Love is one of the biggest fund-raisers for this project, with more than $1M raised since both dance and project began in 1982. Because of the money we raise, the Teddi Project can send these special children on a week-long trip that they will never forget.
One Person Can Make A Difference
by Ray Hill
Teddi Mervis was 12 years old girl and was living on the cusp of teen years that she would never experience. She would be forever young. She had been battling brain cancer since she was nine; in the end, it stole her hearing, her sight, and her beauty. At life's close her appearance had become so grotesque that she would cry at the very thought of being seen by others.
But neither death nor grave could claim victory. When they buried her on that cold March day in 1982, Father Ambuske told the mourners that Teddi Mervis had left an estate greater than any of her peers, greater than most of her elders.
To children, most of them unborn, she had bequeathed use of a camp in perpetuity, a place where they could enjoy the good days and special times, a place where the currency would be love in abundance.
This then is Teddi's story, and it also the story of Camp Good Days and Special Times, a camp for children with cancer. The two are indivisible. One died, the other lived. But had not the former lived, and then the latter would not have been given life. It is, in a sense, a love story– a story of a father's love for his daughter, a love so strong that it would change America.
It would not cure childhood cancer, which next to accidents is the nation's number one killer of children, but it would add a new dimension of compassion to its treatment. All of this would begin on April 18, 1979, the day that Teddi Mervis fell ill with cancer of the brain.
In his book, For the Love of Teddi–The Story Behind Camp Good Days and Special Times, writer Lou Buttino cites Mervis' "capacity to motivate, organize and manage people" as the force behind the creation of Camp Good Days and Special Times. He was now a man driven who, all at once prayed to God and then became angry with Him. Now desperate, he fell by accident on the idea of a camp for kids with cancer.
One morning, while getting ready to go to work, Mervis was half watching and half listening to the Today Show on NBC, and his attention was caught by a story about a Camp Special Days near Jackson, Michigan for boys and girls with cancer. The TV reported that most "regular" camps were not equipped for special children, and as a result, they were excluded from them.
By Christmas Day 1979, Mervis began putting together a team that would plan, fund and recruit volunteer workers in time to open Camp Good Days by the following August. Doubts were expressed, but the camp opened August 29, 1980, near an inlet in the Adirondacks. Teddi attended the first session of Camp Good Days and Special Times that year. She found a boy from Buffalo and "puppy love," and she also found blood sisters and swore an oath of an everlasting friendship. It would last 18 months.
There would be one more encampment for her. By the following year, Teddi was bald, bloated, nearly blind and almost deaf. But her blood sisters remembered her, and they would come and stroke her on the cheek and shout their names into her ear, and Teddi would smile and nod her head. In their weekly visits together in the waning months of Teddi's life, Father Ambuske asked the little girl one day, "Can you see anymore?"
"No, Dave, I can't" she whispered, and from that day forward, Father Ambuske described Teddi's world in the colors she had learned and the images imprinted on her mind. He would tell her what the sky looked like, and the trees and what the wind was doing with the snow.
She never lived to see the permanent site of Camp Good Days and Special Times near Branchport on Keuka Lake. Father Ambuske never had the chance to tell her that Camp Good Days and Special Times begins at Teddi Lane. Teddi Mervis, in dying, gave life to this camp. She spoke of that, and she also talked of heaven. And when she asked Father Ambuske about her funeral and what he would say about her, he replied, "Oh, I'll tell them what a wonderful person you are … how you did things for others, how you dealt with your suffering without complaining. I'll tell them how you loved animals and your love of people. I'll tell them about some of things we talked about."
"Will you be sad, Dave" the little girl asked. "Will you be sad when you talk about me?"
From his pulpit on the day he officiated Teddi's funeral, Father Ambuske said he was of course, very sad. But he was also pleased that he found meaning in Teddi's life.
"But in time, Teddi Mervis came to grips with her fate, just as she had with her terrible disease," he said in his eulogy. "We talked about suffering and its meaning. And together we came to the idea that suffering is only meaningless if we can't find its purpose. We talked about Camp Good Days and all the kids who were now able to enjoy life a little because of it."
"Toward the end, Teddi said to me, "I must have been chosen, I must have been meant to do something on earth. Why not me, right, Dave?"